April 07, 2020
Quarantine — Day 19
It's all about outreach
This post is part of an ongoing series in which I document my journey through the COVID-19 quarantine. See Day 1 for full context.
Quick update
I felt the impact of not waking up early. I think I have mastered the habit of waking up at 5:00am but it's still difficult sometimes. Regardless, I can now feel the shame of not doing it. Waking up at 8:30am after sleeping like 10 hours feels so bad when I realize I couldn't use my morning productively. I know what I should do to improve this: plan my day ahead since the day before. This will allow my brain to be ready at 5:00am - ready to rock on that routine.
In other news, I added the banner on the header to attract traffic to my new guide Cracking the Toptal Interview. I also wrote on DEV.to, hope it brings on some leads. I'm ready now to start writing more meaningful content from now on as, again, The secret to living is giving.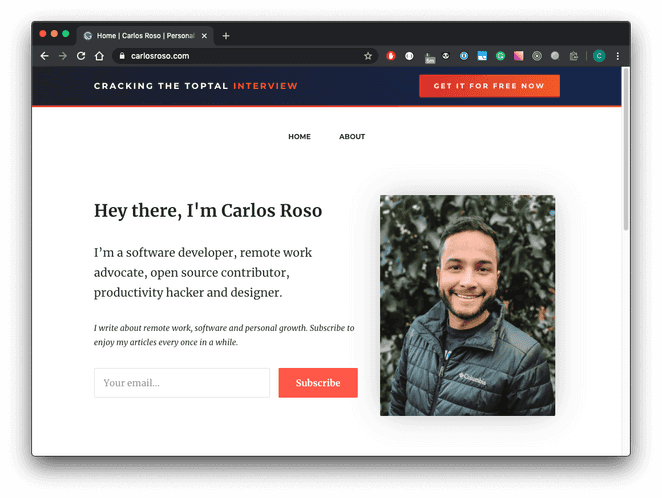 Data Report
Highlights
Avoid news: Yes
Write blog: Yes
Personal growth: Yes. Kept reading Before you know it - John Bargh.
Wake up 5:00 am: No
Workout: No
Help someone: Yes
Time wasted < 90 mins: Yes
Finances
Spent: 0 USD
Stocks Portfolio (24h): -0.46%
Stocks Portfolio (All time): +4.59%
Cryptofolio (24h): +1.03%
Cryptofolio (All time): +59.64%
Stay tuned.
Join the newsletter
I write about remote work, software and personal growth. Subscribe to enjoy my articles every once in a while.